The original Nerang railway station.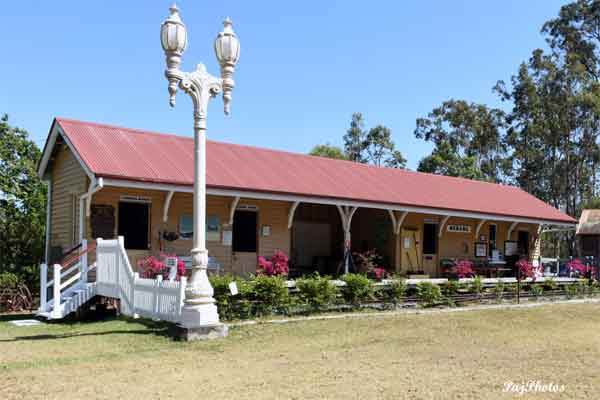 The original Nerang Railway Station opened on 15 July 1889, just less than six months after the line was open to Southport on 25 January 1889. At the time it was the terminus for the South Coast Line until 1903 when the Nerang-Tweed Heads extension opened. Although horse-drawn vehicles were the main means of transport of the day, steam trains were relied upon to provide a quick service for goods and passengers travelling to the state's capital. The station remained the most southerly station in Queensland until the line was extended to Tweed Heads on 14 September 1903.
The line south from Nerang was closed on 30 June 1961 and again this station was the most southerly for a couple more years, but only as a frieght station with no passenger train service. The Nerang station was meant to close in 1961, but remained open for cargo only until 30 April 1964, with the South Coast Railway from Beenleigh to Southport finally closing on 30 June 1964. During June 1964 several steam trains were run to the coast by the AHRS, with the last one arriving at the Nerang on the 28 June 1964. Following the closure of the line the Nerang station was moved to another site and was turned into a council workshop. In 1978 the Albert Shire Council allowed the building to be taken to Springbrook where it received a full restoration.
The station at this stage was owned by Bill and Miriam Short and was located on their property in Carricks Road, Springbrook alongside a few other historical buildings. The plan was to open "The Village" as it was known to the public, but this never happened. To make way for a new complex the building was demolished and reassembled in "The Settlement" also at Springbrook.
The Shorts decided to sell the land complete with its historical buildings to Goldco Properties, who planned to build a golf course. Twelve months later Goldco Properties went into liquidation and the property and its buildings remained there unused.
It was not until four years later that the Queensland Government Land Department decided to take the land for development. At this stage all the old buildings were auctioned off, with the railway station ending up at Mudgeeraba Forest development as their site office on the corner of Bonogin Road and Canopy Drive, where it was again restored.
Here the station remained until midnight on 12 March 2007 when it was moved to the Gold Coast Hinterland Heritage Museum. Barry, Isla and Simon Miller donated the Nerang Railway Station to the Gold Coast Hinterland Heritage Museum in 2007. The rooms of the railway station contains many interesting artifacts from bygone years.
| | | |
| --- | --- | --- |
| | | |
| Station Master House, 1900 | View of station in the 1960's | Same view 2021 |